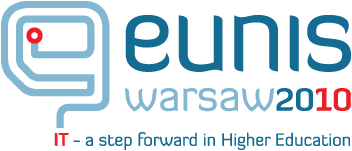 Gallery
Gallery available now! You can view photos from our congress
here
.
Evaluation
You can evaluate Eunis 2010 Congress
here
.
Official Congress Photo

About Eunis
EUNIS 2010 is the 16th Congress in a series of conferences within the framework of the European University Information Systems organisation (EUNIS).
EUNIS Congresses are international events that attract a large audience from Higher Education Institutions (HEI). It is a chance for international specialists, users, researchers, decision–makers and academic teachers from all over Europe to share their experience. Moreover, it is a very good event to present and publish the latest results of research, investigations and deployment concerning Information Technology in HEIs.
This edition of the annual EUNIS Congress, hosted by the University of Warsaw, will take place on 23-25 June 2010 in Warsaw, the capital of Poland.
Warsaw is a modern city inhabited by more than 2 million people. You can find both modern buildings and wide streets as well as parks and other quiet places for having a rest there. There are famous historical buildings (rebuilt carefully after the 2nd World War) not far from the city centre. The main University Campus is located in this historical part of Warsaw and EUNIS sessions are going to take place there. It is good to realize that the University of Warsaw is a special place for the conference because this is where the great Polish minds such as Maria Curie–Skłodowska, Alfred Tarski and Jan Łukasiewicz gave lectures. Moreover, the event will be held in the special year dedicated to the outstanding Polish composer and pianist Fryderyk Chopin who was the student of the University of Warsaw as well. We hope you will find this Congress on the most modern technologies applied at universities and colleges interesting and thought–provoking.