The overall schedule of #EUNIS22 is still under development. Please excuse minor changes, since we do not have all data and contributions at hand.
The pre-congress workshops organized by the EUNIS SIGs are as follows: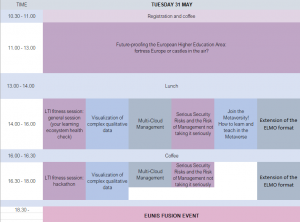 The workshops are offered free of charge. You do not have to be a registered Congress delegate to attend. Workshops must be booked separately from the main Congress registration using this booking form
The workshops will mostly take place at the library (SUB) and some seminar rooms at the Heyne Hause opposite. SUB and Heyne House (about 5-7 min walk to the main conference location – Alte Mensa).
The main program starts at Alte Mensa with the Fusion Event on the evening of May 31th.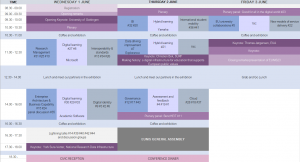 The main program will take place at the Alte Mensa. Please also consult the overview of all locations.
All times are in CEST (GMT/UTC+2) timezone i.e. Paris/Amsterdam time.