Opening address: Welcome by presidents of EUNIS and GUnet
Our EUNIS President will welcome you with a brief update on current and future developments in EUNIS.
Congress chair, Lazaros Merakos, GUnet President, will welcome you to 'virtual Athens'.
Invited speakers
Raimund Vogl, EUNIS
Lazaros Merakos, GUnet
Watch the video recording here.
Location:
Date: June 9, 2021
Time: 9:00 am - 9:10 am
Raimund Vogl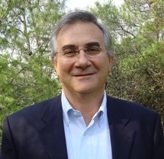 Lazaros Merakos
UP