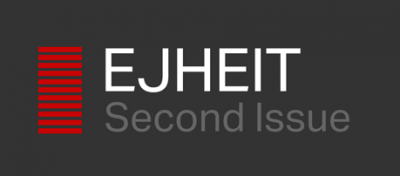 EUNIS Journal of Higher Education IT – EJHEIT
This 2015/1 Issue of Eunis Journal of Higher Education IT is the second issue that publishes full papers from the EUNIS congress.
This second congress special Issue of the Eunis Journal of Higher Education IT focuses on papers coming from the management and cooperation tracks University Cooperation, University Management – Business Intelligence and IT-Management and the Chief Information Officer of the annual congress.
The tracks contained several good presentations and papers. The management aspects of IT at the University is something that has been a recurrent topic at congresses from the very beginning. In total 11 papers were presented within these tracks.
de Haan and Zomeren's paper "Maximizing benefits of cloud computing by Collaboration", available in the "CIO and IT Management" track section of this Issue, was awarded "Best Paper" by the Congress Organisers.
PEPPI CONSORTIUM
Tuomas Orama, Mika Lavikainen, Jaakko Rannila
University Management - BI
STUDENT – CLASS ASSIGNMENT OPTIMIZATION – USING SIMULATED ANNEALING
Krzysztof Ciebiera, Marcin Mucha
EDUCATIONAL DATA MINING: PRELIMINARY RESULTS AT UNIVERSITY OF PORTO
Pedro Strecht, João Moreira and Carlos Soares
I HAVE GIVEN A NAME TO MY PAIN, AND IT IS "ETL"
Bob Strunz
IT-Management and the CIO
ONE-STOP UNIVERSITY ADMINISTRATION: AN INFORMATION ARCHITECTURE FOR HIGER EDUCATION
Josef Kolbitsch
EVALUATION OF DIGITAL ASSESSMENT
Kurt Gammelgaard Nielsen, Lise Petersen, Birgitta Wallstedt, Poul Basse, Pernille Stenkil Hansen, Søren Steen Hansen and Dorthe Majlund Sørensen
THINGS TAKE TIME – ESTABLISHING USABILITY WORK IN A UNIVERSITY CONTEXT
Åsa Cajander, Gerolf Nauwerck and Thomas Lind
WINNER OF THE CONGRESS BEST PAPER AWARD
MAXIMIZING BENEFITS OF CLOUD COMPUTING BY COLLABORATION
Wouter de Haan and Bert van Zomeren
ADOPTING MICROSOFT LYNC AT UMEÅ UNIVERSITY – A MIGRATION FROM LEGACY PBX TO LYNC
Mattias Holmlund and Arne Vedefors
THE ID POINT SERVICE MODEL
Maria Kalske and Mika Kivilompolo
INFORMATION TECHNOLOGY – IN TRANSFORMATION: ORGANISATIONAL STRUCTURE IMPLICATIONS?
Noel Wilson